November 06, 2021
Chef de Rang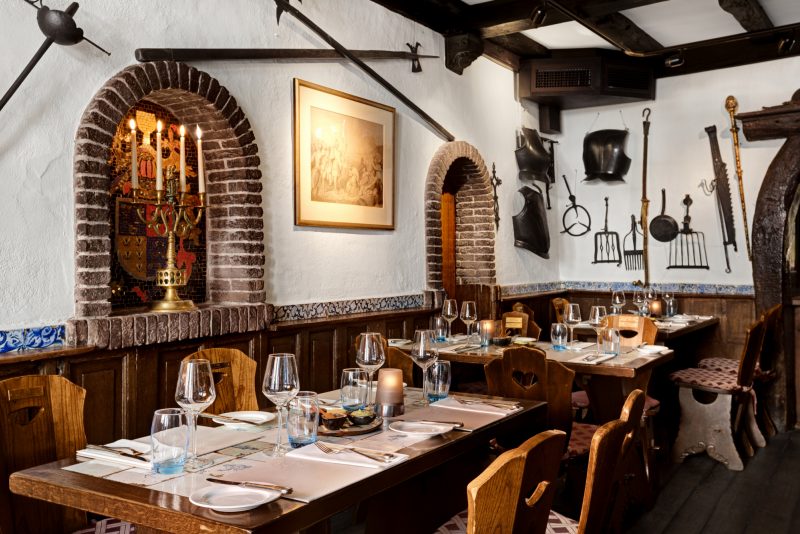 Tasty food, great wine and a unique interior: we like to call our restaurant a culinary museum, located in the center of Amsterdam, near the floating flower market and adjacent to the Amsterdam canals. Where else can you dine, sit under 4 original Rembrandt etchings, view antique Delft Blue tiles and barely admire 17th-century glassware.
At Reataurant d'Vijff Vlieghen! Private dinners, company dinners, group dinners and also romantic dinners for two in one of our cozy corners are possible. The restaurant has 9 different areas which can be used for both a la carte and banqueting dinners. The a la carte rooms can accommodate 110 guests, the other rooms can accommodate approximately 160 guests. The restaurant is open daily for dinner from 6 pm. Lunch is only served on request to groups of 20 people or more. Now during the start-up phase after the Covid Pandemic we are open from Tuesday untill Sunday. The last reservations are taken at 10 PM. Restaurant d'Vijff Vlieghen' a kitchen in which Dutch dishes and exclusively Dutch dishes can be found, all dishes are fresh daily. Many of our guests come from the 4 and 5 star hotels in Amsterdam. They come to enjoy our dishes in a unique ambiance.
What will you do?
As Chef de Rang, you are responsible for looking after our guests. You ensure that the guests have a unique experience and go home with a satisfied feeling. You also ensure that the cash transfer is running smoothly and that your work environment is clean. Finally, you communicate a lot with other departments like Kitchen and Stewarding.
Do you have relevant work experience and do you see every situation as a challenge? Then you are the new face of our restaurant!
Who are you?
A host/hostess with a passion for the hotel industry. You are someone with professional knowledge and experience in F&B. In addition, you are motivated to put a smile on the face of every guest. You find it a challenge to keep your head cool in busy situations, you are flexible and a real team player. You have a good command of the Dutch and English language.
What do we offer?
In this position you are working for NH Hotel Group, a professional international hotel chain with a dynamic and friendly vibe.We understand that people make the difference, and this is conveyed in our excellent working conditions:
NH University: excellent training & (international) development opportunities.
Excellent career opportunities: all employees of NH Hotel Group are given priority on internal vacancies worldwide!
Unique in the hospitality industry: a year-end bonus for every employee with a minimum of 50% of your monthly salary.
Explore the NH Hotel Group brands and enjoy our hotels world-wide with our special employee rate.
Invite your friends and family for city trips in all our hotels worldwide and receive 30% discount on our restaurants and bars! They can also book their next city trip with you Friends & Family code.
We care for your health and therefore offer discounts on collective health insurance and financial services, a "bike plan", and discount at various gyms!
Enjoy specials discounts on a variety of (web) shops and leisure activities on our employee benefits portal.
Are you looking for a new challenge? Apply now!
Apply now!