Restaurant The Five Flies in the heart of Amsterdam
The restaurant is often referred to as a culinary museum at which can be dined under old Dutch art. Walls are decorated with beautiful gold plated leather from the 17th and 19th century. d'Vijff Vlieghen is situated in the centre of Amsterdam and is an ideal location for a romantic dinner for 2 in one of our cosy corners. For private dining, group dinner or conference dinners, there are also possibilities.
Reserve online
Dining in a
unique entourage from the Dutch Golden Age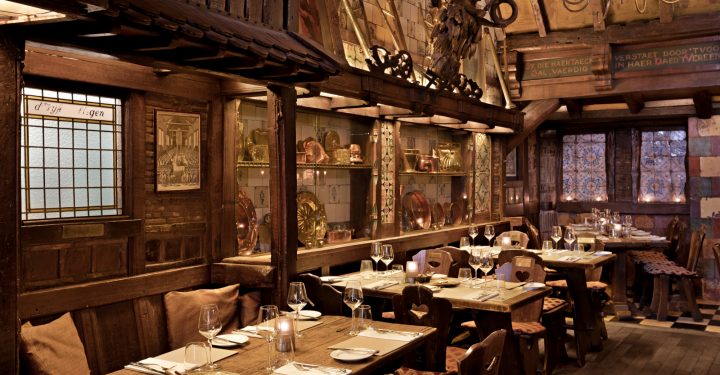 Old Dutch
decoration and art of Rembrandt
Head chef of the restaurant is Lars Schuitenmaker. Lars likes to work with seasonal Dutch ingredients only, preferably biological as well and always with respect to nature. All natural, no finery, you will find 3 or 4 ingredients on the plate, recognizable. We are proud of all the beautiful ingredients that come from the Netherlands and we can't wait to welcome you and savor it!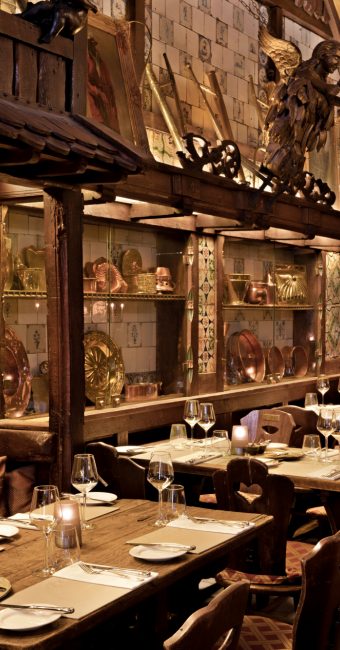 The Five Flies,
A unique ambiance
The restaurant consists of several dining areas, each with its own unique character and collection of antique objects. The Print Room has a collection of 18th and 19th century plans and Delft Blue tiles from the 17th and 18th century. The walls in the Glass Room are decorated with gold plated leather from the 17th and 19th century. In the Rembrandt Room one can have dinner under one of four original etchings from this world famous artist.
View our chambers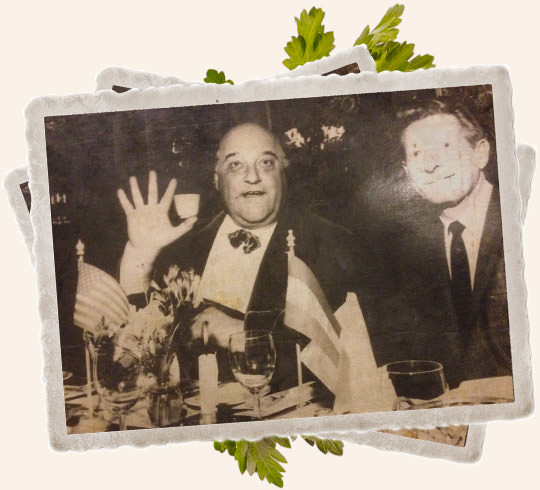 " I am Nicolaas the Fifth, born in 1627 and forgot to die. I am the King of the Five Flies' Empire in Amsterdam, Holland. If you come to my Kingdom I will give you an experience you will never forget" Nicolaas Kroese
This is how Nicolaas Kroese promoted his restaurant in the late 40's in the USA to the American public. In his hand he held a cage in which were 5 copper flies. With his charismatic appearance he knew to make the people enthusiastic for a visit to his restaurant.
Restaurant d'Vijff Vlieghen (or the Five Flies restaurant) is known as a must do when in Amsterdam. In five 17th century canal houses still the most delicious dishes are served. We are proud to continuing the legacy which our founder, Mr. Nicolaas Kroese, started in 1939.
A
worldfamous
guestbook
Our collection of guestbooks go back as far as 1946. In one of the books, from 1950, original drawings of Alice in Wonderland can be found while the movie Alice in Wonderland premiered in 1951.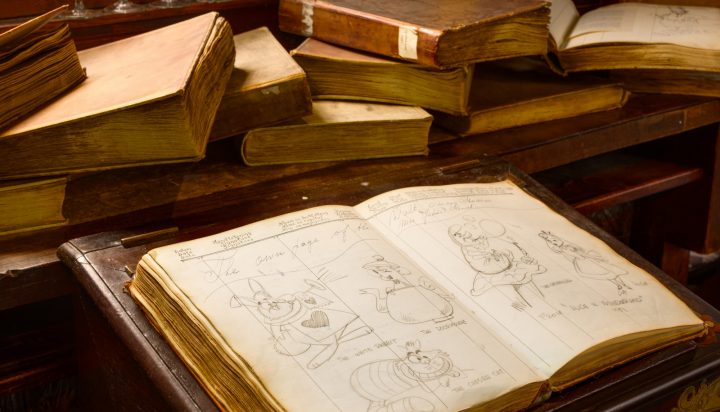 Het Vijff Vlieghen team
Feel free to ask the team for a tour, if operations allow it, we will be happy to show and tell you about the restaurant's rich history.