November 06, 2021
Food & Beverage Employee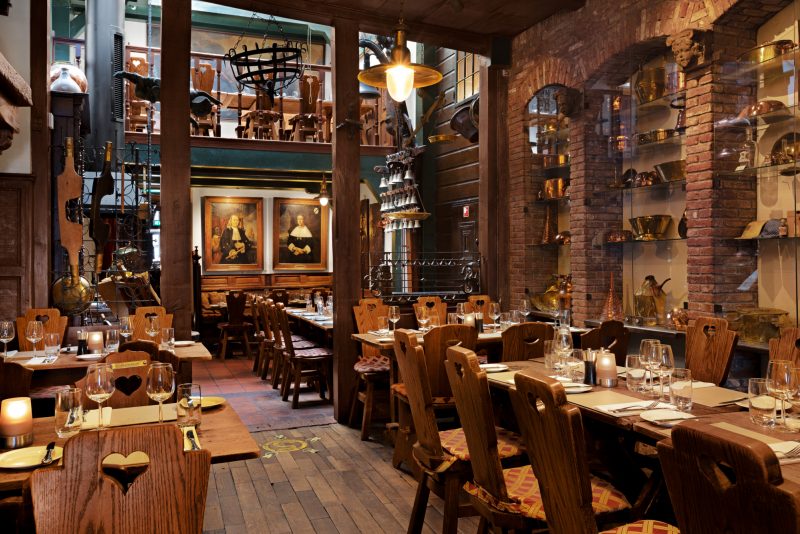 Tasty food, great wine and a unique interior: we like to call our restaurant a culinary museum, located in the center of Amsterdam, near the floating flower market and adjacent to the Amsterdam canals. Where else can you dine, sit under 4 original Rembrandt etchings, view antique Delft Blue tiles and barely admire 17th-century glassware.
At Restaurant d'Vijff Vlieghen! Private dinners, company dinners, group dinners and also romantic dinners for two in one of our cozy corners are possible. The restaurant has 9 different areas which can be used for both a la carte and banqueting dinners. The a la carte rooms can accommodate 110 guests, the other rooms can accommodate approximately 160 guests. The restaurant is open daily for dinner from 6 pm. Lunch is only served on request to groups of 20 people or more. Now during the start-up phase after the Covid Pandemic we are open from Tuesday untill Sunday. The last reservations are taken at 10 PM. Restaurant d'Vijff Vlieghen' a kitchen in which Dutch dishes and exclusively Dutch dishes can be found, all dishes are fresh daily. Many of our guests come from the 4 and 5 star hotels in Amsterdam. They come to enjoy our dishes in a unique ambiance.
What are you going to do?
If you are F&B Employee you are responsible for taking care of our guests. You ensure that the guests experience a unique experience and go home with a satisfied feeling. In addition, you ensure that the cash payment is correct and that you are clean. Finally, you communicate a lot with other departments, including the Kitchen and Stewarding.
Do you have an overview and do you see every situation as a challenge? Then you are the new face of our restaurant!
Who are you?
A host/hostess with a passion for the hotel industry. You are someone with professional knowledge and experience in the F&B. In addition, you are the gig to put a smile on the face of every guest. You find it a challenge to keep a cool head in busy situations, you are flexible and a real team player. You have a good command of the Dutch and English language.
What do we offer you?
In this position you work for NH Hotel Group, a professional international hotel chain with a dynamic and friendly atmosphere. We understand all too well that our colleagues make the difference and this was also reflected in our terms of employment:
NH University: various training and (international) development opportunities.
National and international career opportunities: all employees of NH Hotel Group are given priority for internal vacancies worldwide.
Unique in the hospitality industry: an end-of-year bonus for every employee with a minimum of 50% of a monthly salary.
From Groningen to Madrid and from Berlin to Buenos Aires! Enjoy city trips in our hotels worldwide with our special employee rate!
Tip your friends and family about your favorite city trips: they also book through you with the special Friends & Family discount.
We take care of your health and offer discounts on collective health insurance policies and at various gyms. Do you go to work by bike? Then buy a new bicycle with a VAT discount via our Bicycle Plan.
Take advantage of special offers on various (web) stores and leisure activities on our Employee Benefits Portal.
Does this vacancy appeal to you? Apply now!
Apply now!